About
Jonathan M. Fields / Trails1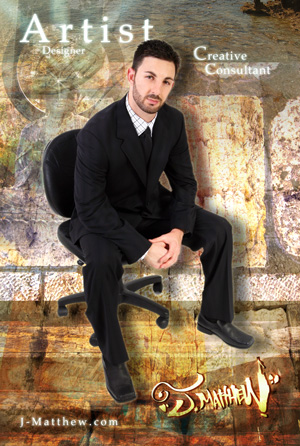 Is a visual artist that uses the mediums of  painting, photography and mixed media to express his perspective on life, the universe and everything.  In addition to art, he works as a graphic & web designer, DJ, photographer, fashion and street wear designer and mixed martial arts instructor.
Art runs deep in the blood line. His Father, Robert, was the son of Polish immigrants raised in North Miami Beach, FL.  Throughout his youth, Robert was a very talented poet, illustrator and concert promoter.  Jonathan's Mother, Nava, was born in Romania to parents that met in a concentration camp and had to rebuild new families and a whole new life after the Second World War.  Her family moved to Israel when she was just five years old.  She would later develop a strong love for the arts while studying art appreciation and art history at the University of Haifa, where she met her future husband.  Jonathan and his two younger brothers were born and raised on a sheep farm in the Northern countryside of Israel, approximately 20 minutes from Nazareth.

At the age of seven, Jonathan's family decided to move to America and start over in South Florida. Upon arrival, he was enrolled in a short summer arts program at the local Jewish Community Center.  A few years later, he would begin spending a lot of time copying characters from comic books and the newspaper.  When he started at Coral Springs middle school, he would become heavily influenced and involved in Graffiti. This love would follow him all through his time at Marjory Stoneman Douglass High School in Parkland, FL.  Throughout middle and high school, Jonathan took as many art classes as he could and spent countless hours drawing everyday.  That same love of Graffiti would eventually get him into a lot of trouble with local law enforcement and school officials, eventually forcing him to give it up all together.  To this day, he is still friends with many talented Graffiti artists, draws inspiration from street art, respects its foundations and supports the public art movement worldwide. 
In 1996, he was drawn into the South Florida Electronic Dance Music scene.  Right away, he was interested in the business side, the music and the dancing going on at these events. He started offering artwork as album covers and passing out flyers for promoters to get closer to the DJs and get a behind the scenes look at this vibrant counter culture.  Within a year, he started producing his own events, got a set of turntables, started collecting vinyl records and fell in love with Break Dancing.
During his senior year of High School, he enrolled in a Commercial Art & Graphic Design program at McFatter Technical Center in Davie, FL.  His career as a graphic designer and the creation of his design & full color printing company, Harmonik Designs, was launched at this time, circa 1997.  Besides learning how to transfer his art onto the computer, he also had some manual art classes in the program.
In 1998, he would meet an individual named Richard "Speedy Legs" Fernandez, who is a legendary break dancer and recognized as the Godfather of the Florida Bboy and Hip Hop Pioneer.  Mr. Fernandez was impressed with Jonathan's ability to produce events at such a young age and his enthusiasm.  The two teamed up and Jonathan took over as the President of Richard's events and street wear company, Hip Hop Elements.  Over the last 19 years, they have produced nearly one thousand special events, have worked with numerous community organizations and large corporate sponsors.
In 1999, Jonathan enrolled in a Digital Media program at Full Sail University in Winter Park, FL. In addition to fine art classes and graphic design, he was now learning video editing, film and video production, studio recording, music production, virtual reality, web design and 3D animation. After graduating with an Associates of Science in Digital Media, he moved back to South Florida and enrolled in Broward College, where he would spend the next three years studying drawing, painting, photography, 2d design, 3d design, art history and art appreciation. He also took many general classes like English, Science, Economics, etc.
PRESENT DAY, While still working as an artist and disc jockey, Mr. Fields is currently practicing as a Doctor of Oriental Medicine at his Tamarac Acupuncture & Coconut Creek Acupuncture offices of Integrative Medicine US or our NEW Medspa Boca Raton Acupuncture clinic.

For inquiries and bookings, call 954.531.8146,  or visit our contact page.