Beat Street Graffiti Wynwood Art Gallery
In May of 2014, I was blessed to exhibit with & DJ for ten of the top Street Artists and most successful Graffiti Legends from Miami.
The opening night was held at the HandCrafted Gallery in the famous Wynwood Art District on May 31st. The HandCrafted Gallery is owned by Reality Television star, Chris Nunes, from Miami Ink & Ink Master fame.
After the show spent 30 days in the gallery, it then spent a month at the Miami Light Project studio in Wynwood, which is one of Miami's premier art institutions for over 20 years.
My painting is currently hanging in the Wynwood location for the Miami Scratch Academy, the top DJ school in the country. The theme is the 30th Anniversary of the legendary Beat Street Film. Scroll all the way down for more info and pictures from the event.

Spray Paint, Acrylic, & Mixed Media on 4'x'4′ Canvas – 2014
click on the image below to enlarge
Photos from Opening Night Reception
Artists from left to right: Trek 6, Trails, Hec One Love
Art from left to right: Rage Johnson, Remote, Marley
Art from left to right: Sero, Chillski, SK545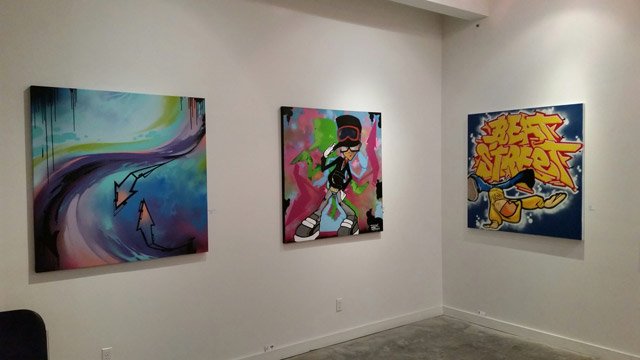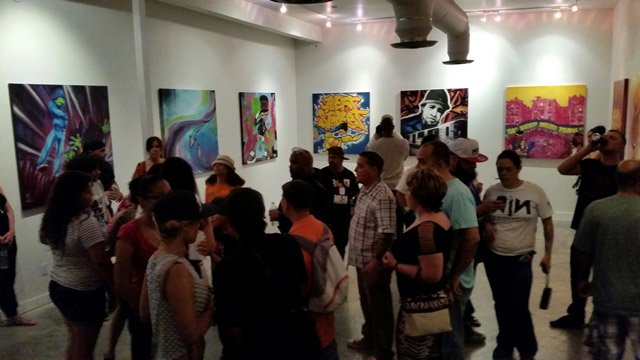 DJs: Heron, Rage & Brimstone
FEATURED MIAMI STREET ARTISTS
The exhibit was the opening night for the 18th Annual Miami Pro-Am. For more info on the 2014 Miami Pro-Am, visit: www.ProAmGames.com or www.HipHopElements.com
HandCrafted Gallery
3438 N Miami Ave, Miami, FL 33127
Music by DJ Trails, Rage Johnson, Heron & Brimstone